LLB, BSW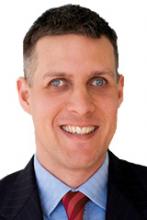 Darren Fittler grew up in regional NSW before moving to Sydney to complete a social work degree and later a law degree. He is committed to the rights of people with disability and, in addition to working as a disability advocate in the late 90s, has fought for Braille election ballot forms and had the privilege of participating in meetings at the United Nations in New York, helping in the development of an international convention on the rights of persons with disability.
Darren joined the law firm Gilbert + Tobin in June 2004 and is now the lead partner in the firm's Charities and Social Sector Advisory Group, specialising in the provision of legal assistance to philanthropists, charities and not-for-profit organisations
Darren was named in the 2015 Australasian Lawyer Hot List as a "Pillar of the Community" and was the recipient of the 2014 Human Rights Commission Law Award in recognition of his long term commitment to assisting not-for-profit and charitable organisations. Darren is widely published on matters relating to charities and NFPs and has spent many years volunteering on a number of not-for-profit boards.
First appointed to the Board in October 2016.