As a Vision Australia Library member you can access your reading materials from the i-access Library catalogue in a variety of ways.
VA Connect App
The free VA Connect App automatically connects you to the online library catalogue using your smartphone, iPad, tablet, or other compatible device. It is easy to download and use. 
You can either read material straight away (stream it with WiFi) or download (with WiFi) and read later when you're not connected to WiFi. The app allows you to quickly and easily search the online catalogue, find what you want and add it to your bookshelf. You can also listen to Vision Australia Radio podcasts via the app.
Download the app
You can download the VA Connect App for your suitable device here:
Envoy Connect Audio Player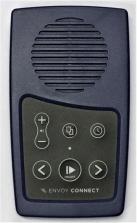 The Envoy Connect is a small, simple-to-use audiobook player which can hold up to twenty books and is designed for people who cannot use a smart product. Books need to be downloaded to the Envoy using the i-access Kiosk downloading software which connects to the i-access library catalogue. The Envoy Connect can be purchased from the Vision Australia Shop
i-access Kiosk downloading software
The i-access Kiosk software allows you to easily choose the titles to be added or removed on the computer.  If you also have a portable Envoy Connect player, you can download audio books directly to the player. Download the Kiosk software here.
Own devices
Library members can use their own devices to read library materials. This may include:
Own computer
Smart phone
Tablet / iPad
MP3 player like Victor Stream
DAISY players using the Kiosk software or i-access Library to manage titles
Linio players and more.
DAISY players
DAISY players are compatible with the library service, but can no longer be rented through Vision Australia.
Electronic or refreshable braille display
You can use your electronic or refreshable braille display device to access downloadable braille content via the i-access online catalogue.
Post
All members can borrow printed braille books from the library free of charge. Books are posted to you free of charge via Australia Post.
eBook readers
eBook readers are becoming more user friendly for people who are blind or have low vision. Two of the more accessible ebook readers are the Kindle from Amazon, and the iBooks Store, which runs on several Apple devices including iPod Touch, iPad, and the iPhone Find out more about ebook readers.
Contact the library
For more information on Vision Australia's Library service call 1300 654 656 or contact the Library. You can also connect with our services here.