The Vision Australia Library has a variety of resources and services for young people who are blind, have low vision or have a print disability.
Children and young adult
Thousands of children's and young adult titles are available in the following formats:
Audiobooks. Listen on the free VA Connect App
Print braille picture books. These picture books are overlaid with clear braille stickers, and are a great way to introduce young children to braille and support their developing literacy. These books are posted Australia wide free of charge.
Paper braille books. Children's and young adult books in paper braille can be posted Australia wide free of charge.
Ebraille books. These books can be read on electronic braille devices.
Decodable readers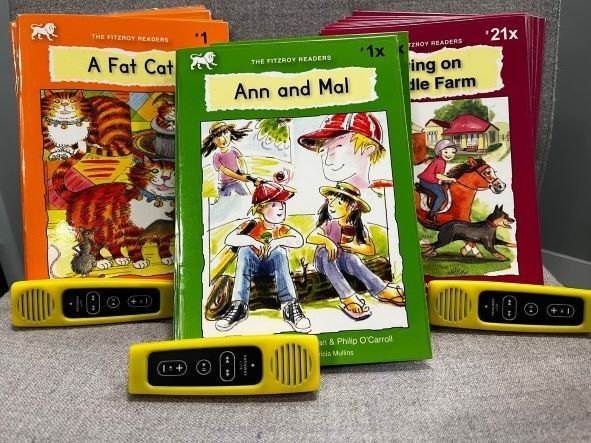 The Vision Australia Library has a collection of over 400 decodable readers now available for loan to library members. Each set of books is accompanied by audio files on a pre-loaded Pathway Player, providing an additional sensory resources for readers to engage with the text.
Decodable readers are books designed for children learning to read which use a systemic approach to learning phonics – as children progress through the books, they are introduced to new letter groups and their sounds, learning how to 'decode' printed text.
Decodable readers are particularly recommended for children with dyslexia. Dyslexia is the most common cause of reading, writing and spelling difficulties and is recognised as a print disability.
Australian residents with a print disability, including people with dyslexia, are eligible to join the Vision Australia Library. If you are interested in borrowing decodable readers, contact [email protected] or sign up at the Feelix registration form and mention you are interested in decodable readers.
Senior secondary school English texts
Many texts studied as part of the Australian senior school English curriculum are available in audio through the Vision Australia Library, including the complete VCE English and English as an Additional Language Lists (List 1) for 2023 (120KB, Word) and 2024 (132KB, Word).
If you are a primary, secondary or tertiary student studying a text that is not currently available through the library, you can request for it to be produced in an accessible format through Student Support Services.
Want more books? Especially for study?
Bookshare gives Vision Australia Library members access to thousands of fiction and non-fiction synthetic voice books in DAISY and braille formats for $45AUD. To join, please contact the library.
Student Support Services - copying or reproducing student materials
Vision Australia can copy or reproduce student materials into alternative formats like audio, braille, large print and e-text for students with a print disability. This can include text books and other educational materials as required for study.
To submit a request, you must be a member of the library and be enrolled in primary, secondary or post-secondary education. To become a library member join here. Your educational institution must also authorise and pay Vision Australia to provide these services for you.
Audio formats are the quickest and cheapest to reproduce. Braille, large print and e-text formats are more expensive, complicated and time-consuming to produce. If you can provide the original material in electronic format we can do this much quicker for you.
For enquiries related to copying and reproducing student materials contact:
Customer Service Team
1300 84 74 66
[email protected]