At the Vision Australia Feelix Library, children from a young age can enjoy stories with their parents and siblings, and learn about braille.
About Feelix
Reading plays a key role in the learning and development of any child, and Feelix helps children learn and develop in a unique, sensory way to support literacy. 
Children 0-7 years old who are blind or have low vision can become a member of the Feelix Library.
Our story kits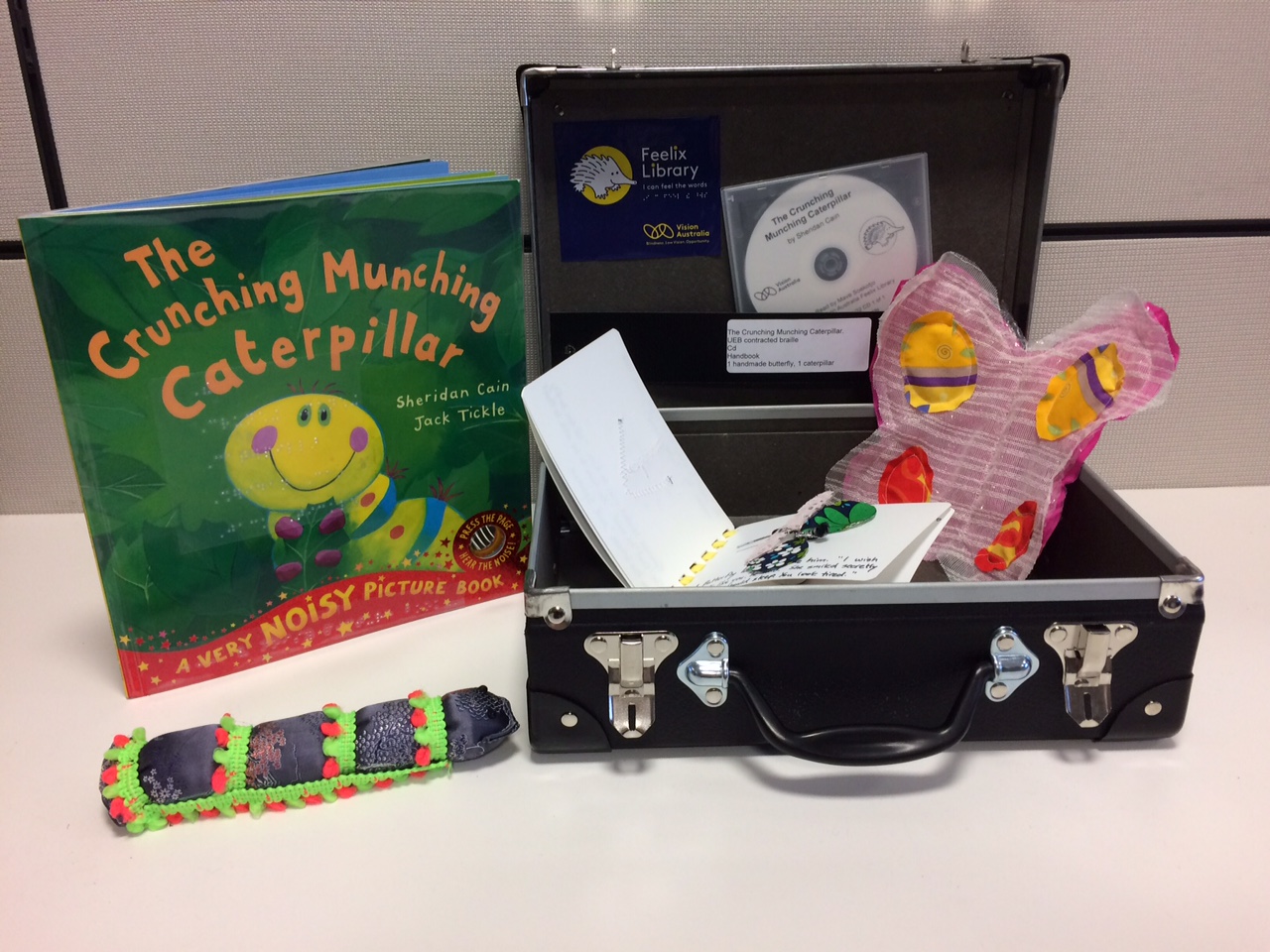 Our story kits help parents, carers and teachers bring stories to life for children through books, audio and touch. Story kits include:
A child's picture book with clear braille overlay so they can learn to read
A CD so they can also listen along to the story as they read
A handmade tactile toy or object that the child can touch to help them further understand the story.
A tactile book which tells the story through touch.
Popular books
We have over 790 innovative story kits to choose from including much-loved children's books such as 'The Cat in the Hat', 'The Very Hungry Caterpillar' and 'The Gruffalo'. Story kits are available for all reading levels: 
Books to begin with
Books with a short simple story 
Books with a developing story line and rhyme
Books with a long story and interesting ideas.
Download the full booklist (Word, 1.3MB)
Chinese, Vietnamese, Turkish and Arabic story kits
Story kits are also available in languages including Chinese, Vietnamese, Turkish and Arabic. These kits allow parents to read to their children in their native language. The audio recording is in the native language but the braille is in English. The tactile materials and handbook stay the same.
Join the Feelix library
Membership of Feelix is free and available to children 0 to 7 years old who are blind or have low vision in Australia. Childcare centres, preschools and teachers of our members can also become borrowers. To express an interest please email FeelixLibrary@visionaustralia.org and 1300 654 656. 
Contact the library
For more information on Vision Australia's Library service call 1300 654 656 or contact the Library. You can also connect with our services here.