February 2022
Vision Australia Library is pleased to announce our first 'In Conversation' author event for 2022, featuring very special guest, adventurer and Australian legend, Dick Smith.
Described by Paul Hogan as 'Part Bear Grylls, part Bill Gates, but 100% Aussie larrikin.' Dick Smith is an icon of Australian business, philanthropy and aeronautics.
November 2021
In Conversation, Writing the Perfect Crime
Whether it be fiction or non-fiction, larceny, hit-men or lust for vengeance, our library members cannot seem to read enough crime. But what lures a reader to the dark underbelly of crime? And what plot devices does a sneaky crime writer arm themselves with in order to trap the curious reader?
Watch our latest in conversation with multi-award winning crime writers, Emma Viskic and Chloe Hooper as we snoop to investigate what it takes to write the perfect crime.
Watch the In Conversation recording here (opens new window)
Read My Way: An Exploration of Accessible Formats
Vision Australia opens its doors for an engaging panel discussion about alternative reading formats - featuring speakers from Vision Australia's dedicated team - a virtual tour of the Vision Australia radio studio, a showcase of literacy kits from our children's library Feelix, braille and accessible devices.
This event is a collaboration between Vision Australia Library and Melbourne Writers Festival (MWF).
Watch the Read My Way recording here (opens in new window)
October 2021
Join our 7 books in 7 months reading challenge for children under 10!   
Come on a journey around the world with the new Feelix Passport. This program aims to help your child rediscover their love of reading or set new reading goals. The passport also gives your child the opportunity to review the books in their own words.
How it works
1. Sign up to the Passport Reader Program
2. Receive your child's passport with your next kit
3. Return your kit in the specified time to get a stamp against a continent in your passport
4. We'll send your kit back with a small gift
5. Repeat until you get a stamp against all 7 continents
6. Read 7 books in 7 months and receive a wonderful prize pack!
That's it! Sign up and start your journey today.
September 2021
Tuesday, 14 September 2021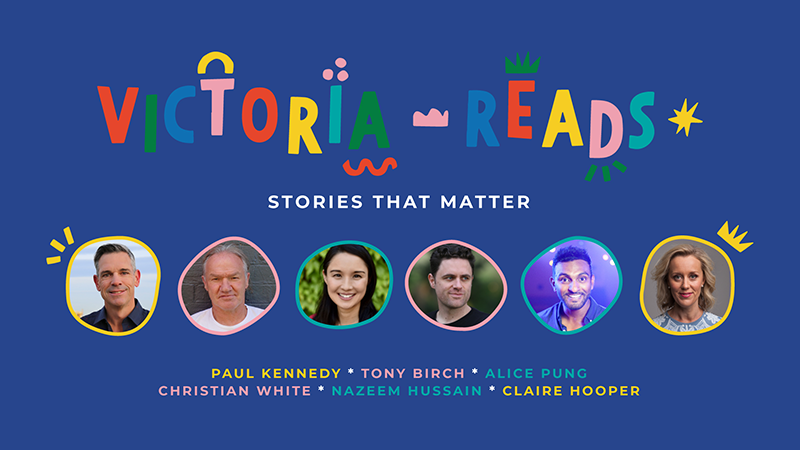 It's time for Victorians to share their reading stories.  
Join us online for a chatty and illuminating evening about the reading lives of some of Victoria's most treasured personalities: Christian White, Nazeem Hussain, Tony Birch and Alice Pung plus hosts Claire Hooper and Paul Kennedy. You'll hear about the books that changed their lives, made them smile, and the book they would take to outer space. Their answers will surprise and delight you.
This statewide event will connect you to readers right across Victoria and give you the opportunity to share your own favourite books. Celebrating Australia Reads. 
Register through the Public Libraries Victoria registration page here
August 2021
Wednesday, 25 August 2021
Slip into your jammies, get a nice warm drink and your favourite teddy and join us for a special Book Week edition of storytime.
Our fabulous Feelix Librarian, Victoria, will read Sing Me the Summer (2021 CBCA Notable picture book) by Jane Godwin and Alison Lester, a story that is a glorious celebration of the seasons, in rhyme!
Through summer, autumn, winter, spring and back to summer again, delight in the change of weather, seasons, and activities all these changes bring. 

Go to event details and how to register
Thursday, 26 August 2021
Based on true events, Suitcase of Dreams tells the story of Lotte and her family's arrival to Australia from Europe in 1956.
After enduring the horror of Nazi Germany and the chaos of post-war occupation, Lotte and husband Erich were full of hope for a new life.
It's a land of opportunity and they dreamt of giving their children the life they have always wanted.
Until darker shadows of the past reach out to them from Germany, a world and a lifetime away.
Have you always dreamt of writing your life story?
Maybe you'd like to leave a legacy for your family, or maybe you want to be sure your story gets told in your own words. Or perhaps the idea of being a small part of history is important to you but you just don't know how to get started.
We are delighted to present this series, facilitated by Melbourne writer, mentor and creative writing teacher, Lyndel Caffrey, where you'll learn about the ingredients you need and the methods you can use to tell the story of your life.
May 2021
The most popular library books for April
Need reading inspiration? The Vision Australia Library has compiled the top five fiction and non-fiction book downloads for April.
Crime, murder and mystery were flavour of the month for fiction while memoirs and biographies of inspiring women led the field for non-fiction.
For more information about the Vision Australia Library including how to join visit the website here.   
Top five fiction titles
Late, Late In the Evening by Gladys Mitchell
A member of a folk-dance group is killed on the Yorkshire Moors. At first, police suspect a hit-and run driver, but when another dancer is killed the case takes a turn for the sinister.
Available in DAISY
Cold, Lone and Still by Gladys Mitchell        
A couple embark on a long pilgrimage in the Scottish highlands, where, in heavy mist they come upon the corpse of a murdered man.
Available in DAISY
In the Shadow of Denali by Tracie Peterson 
Allan Brennan is working at a prestigious new wilderness hotel. The real reason he's there, to learn the truth about his father's death, is far more dangerous than he knows.
Available in DAISY 
First person narrative of the late years of fictional Abstract Expressionist painter Rabo Karabekian, who first appeared as a minor character in Vonnegut's Breakfast of Champions.
Available in DAISY 
Without a Doubt by Fleur McDonald  
In a bid to search for the link between a murdered man and illegal stock trading, police officer Dave must put himself on the wrong side of the law. If he's found out, he'll never see his wife or daughter again.
Available in DAISY  
Top five non-fiction downloads
Sex, Drugs and the Electoral Roll by Fiona Patten 
The entertaining and inspiring story of how one woman used her own radical common sense to speak truth to power and fight for change.
Available in DAISY 
Call the Midwife by Jennifer Worth    
Jennifer Worth was just twenty-two when she volunteered to spend her early years of midwifery training in the heart of London's East End in the 1950s.
Available in DAISY 
Thomas Jefferson by Christopher Hitchens 
 Hitchens brings the character of Jefferson to life as both man of his time and also as a symbolic figure of the future.
Available in DAISY 
Memoirs of Tilly Aston by Matilda Ann Aston
An autobiography of the Australian poet, author and philanthropist.
Available in DAISY 
A Different Kind of Seeing by Marie Younan
Accidentally blinded by her grandmother as a baby, locked out of school, play, and social gatherings, she lived a brave inner life of reflection and acceptance.
Available in DAISY
A Different Kind of Seeing: In Conversation with Marie Younan and Jill Sanguinetti
On May 19, Vision Australia Library held A Different Kind of Seeing: In Conversation with Marie Younan and Jill Sanguinetti hosted by Chloe Hooper with special guest Bill Jolley. You can watch the stream of the conversation online on Youtube.
---
March 2021
Paddock to Page: In Conversation with Rachael Johns and Fleur McDonald (webinar)
From tight-knit hamlets to the red dirt of the sprawling outback the rural romance genre highlights the diversity of the Australian rural landscape, the hardships and success' of rural life and the love and connection people have to the life on the land.
More importantly, the stories are about women determining their own lives, overcoming obstacles and finding a hard-won happy ending.
Join two of Australia's most popular Rural Romance writers Rachael Johns and Fleur McDonald in conversation as they discuss how they bring their lived experience on the land from paddock to page.
When: Tuesday March 30, 2pm-3pm (AEDT)
How: Via Zoom. Telephone dial in option available.
International Women's Day reading list
In honour of International Women's Day on Sunday March 8 we've put together a list of some great books from the collection celebrating Australian women in literature. These selections are available on the Vision Australia Library and come from Australian women writers who have been awarded the Stella Prize.
The Stella Prize is a prize for the year's best book, fiction or non-fiction, written by an Australian woman. The prize was dreamed up in a panel discussion on International Women's Day in 2011 as a way to address the lack of representation for women's writing in reviews and awards which predominantly are gifted to male writers. The first award was presented in 2013 to Carrie Tiffany for her novel, Mateship with Birds, which is available through the Vision Australia Library.
---
Library's new newsletter
Vision Australia Library is pleased to announce our new quarterly library newsletter! In this online newsletter you will find information about the library, updates and news, and reading recommendations. Library members will be automatically subscribed to this newsletter. Read the first newsletter here.
If you are not a library member and would like to receive the newsletter please email [email protected].