2 December 2020
"I've learned some really useful skills from LEAP, like how elevator pitches work, how to prepare for an interview, as well as resume and cover letter writing.  These are all skills I will definitely be using in my future and I am thankful and happy I learned them with LEAP", said Alex, a participant from the graduating class of the 2020 LEAP (Learn, Engage, Act, Perform) program.
In the final LEAP meeting, Alex shared the (virtual) stage with her fellow graduands as they completed their last activity before celebrating together in their graduation.
Read the full article: The final LEAP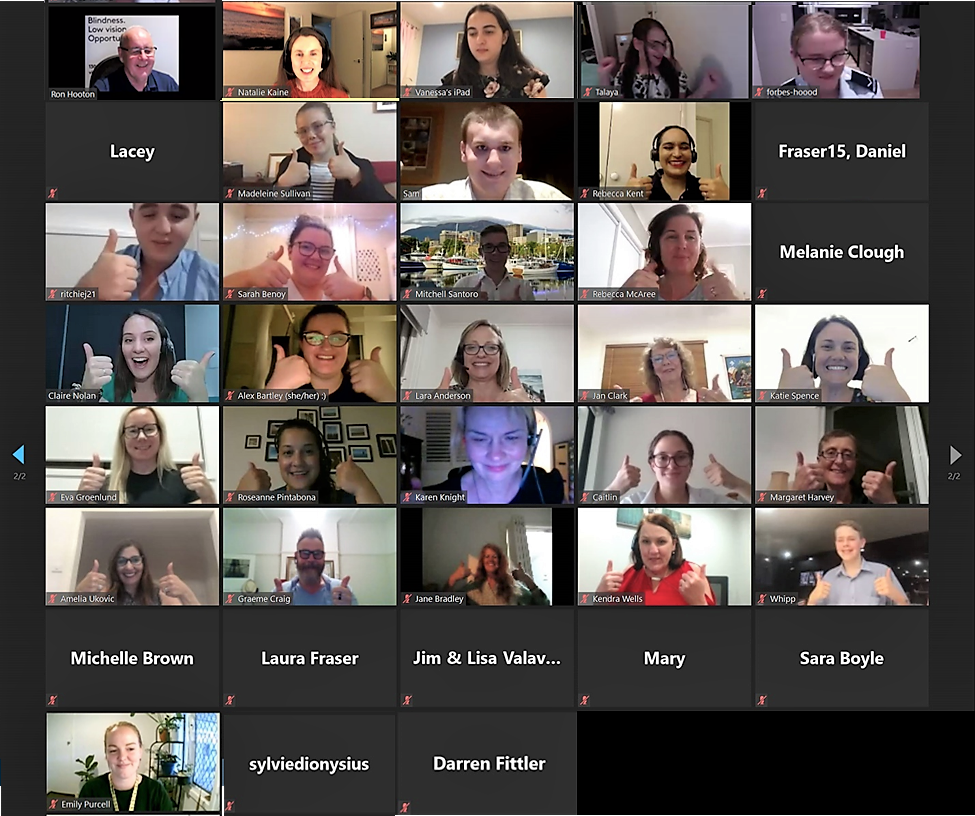 The LEAP Class of 2020 meeting virtually through Zoom
---
Podcast: Listen to LEAP Program Co-ordinator Claire Nolan chatting about all things LEAP 2021
---
Vision Australia CEO Ron Hooton and LEAP 2019 participants share their experiences of LEAP program and Magic Moments camp.
---
15 October 2020
As a young person, the world of applying for a job is like stepping into another universe. It is filled with job searching, cover letters, interviews, CVs and resumes.
This process is tricky to navigate but is a vital step in a young person's journey towards independence and adulthood.
At Vision Australia, we want our young people prepared with the skills they need to embark on this journey confidently and with pride.
Read the full story: how this year's LEAP participants were given a unique step-up
---
25 September 2020
Chloe Naughton is Melbourne Fashion Festival's chief Fashion Programmer. It is Chloe's job to make sure Australia's largest fashion event dazzles the crowd and brings style, sass, and inspiration to their audience through the world of fashion.
So, who better for our LEAP 2020 participants to learn tips on dressing professionally than from Chloe herself?
LEAP participants met with Chloe to learn all things fashion and style in the professional context. They learned there are many ways to dress professionally. For some this might involve a classic suit jacket and for others this might be an amazing pair of closed-toe shoes to complete the look.
LEAP participants learned that putting your best self forward when going to a job interview, networking, or attending formal events doesn't mean you should lose your unique personality and style. Chloe lives and breathes fashion and champions the importance of expressing your personality in what you wear (and yes, avocado socks do have a place!).
Read the full story: putting your best self forward. 
---
Meet Chloe: a past LEAP program participant
Hear from Chloe, year 9, and her experience from Vision Australia's LEAP program.
---
LEAP 2020 participants get career boost from LinkedIn
LEAP Team know that our young people want to learn employability and leadership skills from prominent leaders in the field. That's why we bring in guest speakers who have real-world experience to chat to our young people, to provide industry-insights and inspire them to realise their potential.
During LEAP 2020, participants took part in an online session supported by LinkedIn.
Angus McAvaney from LinkedIn spoke to the group about the importance of having an online professional profile and gave tips on how it can help them to search for and secure a job.
They were also joined by Vision Australia CEO Ron Hooton who shared his journey of becoming CEO. Ron shared with our young people important career insights as well as techniques and strategies he learned during his career and continues to use today.
Vision Australia's Vildana Praljak, Service Designer at Vision Australia, said the LinkedIn session provided participants with valuable insight around their career paths. "As a teenager, there's a whole world to figure out. It's certainly a time when people are giving more thought to their career path and we want to make sure young people who are blind or have low vision have every chance to succeed," Vildana said.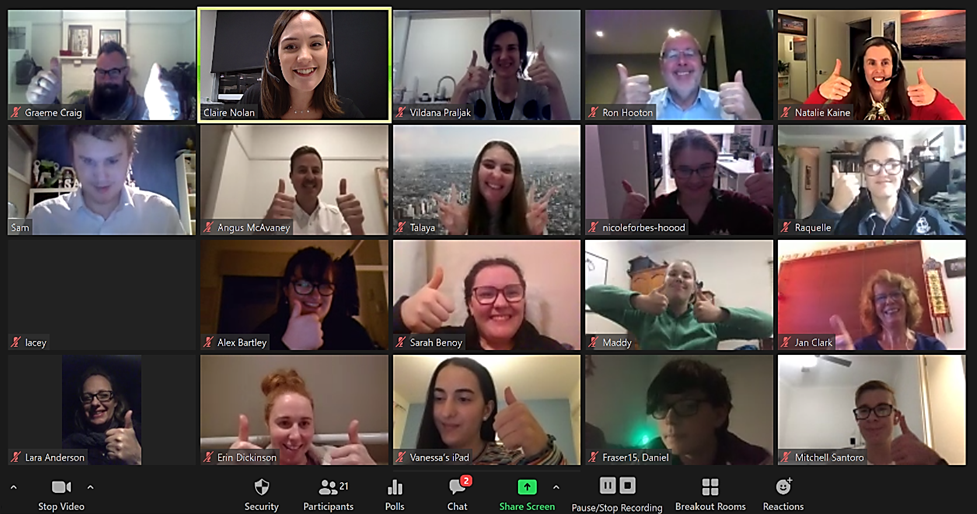 In photo: LEAP 2020 participants, Angus from LinkedIn and several VA staff members all give a thumbs-up in a Zoom video call.
"Hearing from Ron about his career was a great opportunity for them to understand what it takes to be successful in a senior position, while Angus' talk highlighted the changing nature when it comes to finding career opportunities and the importance of being ready to make the most of them," she said.
The group was also surprised by Angus, who also shared with them that LinkedIn has provided all LEAP 2020 participants with access to LinkedIn Learning. LinkedIn Learning is an online learning platform that will support the LEAP participants to develop leadership and employment skills.