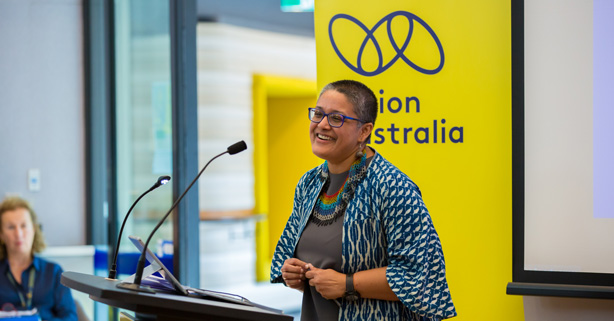 Navanita is a gender equality, social inclusion and women's empowerment practitioner. She has worked with a range of organisations including the UN, international and national NGOs and the private sector in Asia, Africa and Oceania.
Her areas of expertise include working on violence against women and girls, women's economic empowerment, electoral governance with emphasis on women's rights, and inclusive infrastructure.
At Vision Australia's fashion, leadership and wine event on March 20, 2019, Navanita was invited to speak about leadership with a particular focus on women and breaking free - breaking free from stereotypes, breaking free from inhibitions and breaking free from what 'society' dictates what women wear, say and do.
In the blog below, Navanita summarises her speech and message to the audience of 70 women who have a lived experience of blindness or low vision.
What you can do next
In her blog, Navanita speaks about having an insatiable curiosity. What are some ways in which you are embracing continuous learning? Who are some leaders that you follow that help you to think differently? If you are not actively investing in your own learning, you can look at e-learning sites such as eDx, FutureLearn and SkillShare that provide a range of resources and courses that can assist you learn new skills and acquire new knowledge.
There are some inspiring leaders in industry with strong messages that provoke thinking and may help you on your leadership journey. You can follow them on platforms such as LinkedIn. Some of these leaders include Seth Godin (entrepreneur, business, leadership), Brene Brown (research professor), Simon Sinek (motivational speaker, leadership coach), Richard Branson (owner of Virgin), Michelle Obama (lawyer, former first lady), Oprah Winfrey (entrepreneur, influencer), Deepak Chopra (public speaker, thought leader), Bill Gates (philanthropist, founder of Microsoft), Sheryl Sandberg (chief operating officer of Facebook), Adam Grant (organisation psychologist) and Tony Robbins (life coach).
Do you have a LinkedIn profile? LinkedIn can get you noticed and connect you with a network of professionals, job opportunities, articles and blogs. Our employment services team can assist you with this. Request a call back from employment services.