Chief People Officer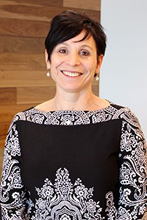 Joining Vision Australia in July 2021, Simone has 25 years' experience leading cultural transformation, organisational development, employee engagement and change management in the not-for-profit, finance, technology and communications sectors.
Simone is a dedicated, energetic and inspiring leader, who takes pride in delivering sustainable results and providing value to individuals and organisations. She has an open, collaborative and supportive leadership style, with a focus on building a shared purpose and creating simplicity so the workforce can deliver on outcomes and achieve their best every day.
Simone throws her whole self into work and encourages others to do the same. Committed to ongoing learning and continuous improvement, Simone is purpose driven, passionate and creative.
On the weekend, her passion takes her into nature where she loves to hike in the bushland close to her home. She also loves spending as much time as she can with her young grandchildren.