Entries are now open to all artists who are blind or have low vision for the annual Vision Australia calendar artwork competition.
It's an opportunity to be featured in the 2023 Vision Australia large print calendars or diary.
Plus, a chance to win a $300 gift card!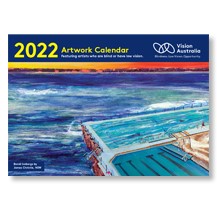 To enter:
You will need to have produced an original piece of artwork within the last 12 months.
We recommend the artwork painting or drawing is in a landscape or horizontal format and appropriate for a decorative calendar. The final calendar will be printed A3 (297mm x 440mm).
Please complete all the details on the form below
Please submit or email a high resolution, digital image of your finished artwork/s.
Image quality must be high resolution and of high quality to be printed and included in the final production.
Vision Australia will NOT be photographing final artwork.
Alternatively, you can print and email this application form (Word) along with your image files to [email protected]
Entries close Friday 13 May 2023 at 5pm AEST.