Our young people are filled with dreams and aspirations, eagerness and anticipation, plans and goals for their future. They are buzzing with excitement to begin their journey into meaningful employment.
As a young person, the world of applying for a job is like stepping into another universe. It is filled with job searching, cover letters, interviews, CVs and resumes. Not to mention the anxiety, apprehension, and nervousness involved in the job application process.
This process is tricky to navigate but is a vital step in a young person's journey towards independence and adulthood. At Vision Australia, we want our young people prepared with the skills they need to embark on this journey confidently and with pride.
In early October, LEAP participants took a giant step in this journey and completed a mock interview with Vision Australia CEO Ron Hooton and General Manager Graeme Craig. Participants prepared for their interview by learning important skills in job searching, cover letter writing, resume writing, and interviewing techniques.
LEAP mock interviews provided participants an invaluable opportunity to practice their interviewing skills and receive tailored feedback from senior Vision Australia staff. CEO Ron Hooton speaks of the calibre of this year's LEAP participants.
"Amongst the most difficult questions a blind or low vision candidate can face are those about the limitations of their disability. Our LEAP participants answered these questions brilliantly. They demonstrated that they had the compensating skills and I can confidently say their interviewing abilities are equal to their sighted peers".
In preparation for mock interviews, LEAP participants heard from guest speaker Tim Smith, Managing Director of recruitment services consultancy Winchester Search. Participants learned from Tim how to tailor job applications and enhance their interviewing skills to give themselves the best possible chance at success. Tim spoke with participants about what to expect from the interview process and discussed questions and answers that may arise.
LEAP participant Sarah Benoy says the LEAP program's mock interview activity, "gave me confidence for when I have to complete my first real job interview. The mock interview was a great opportunity to get feedback in a safe and positive environment."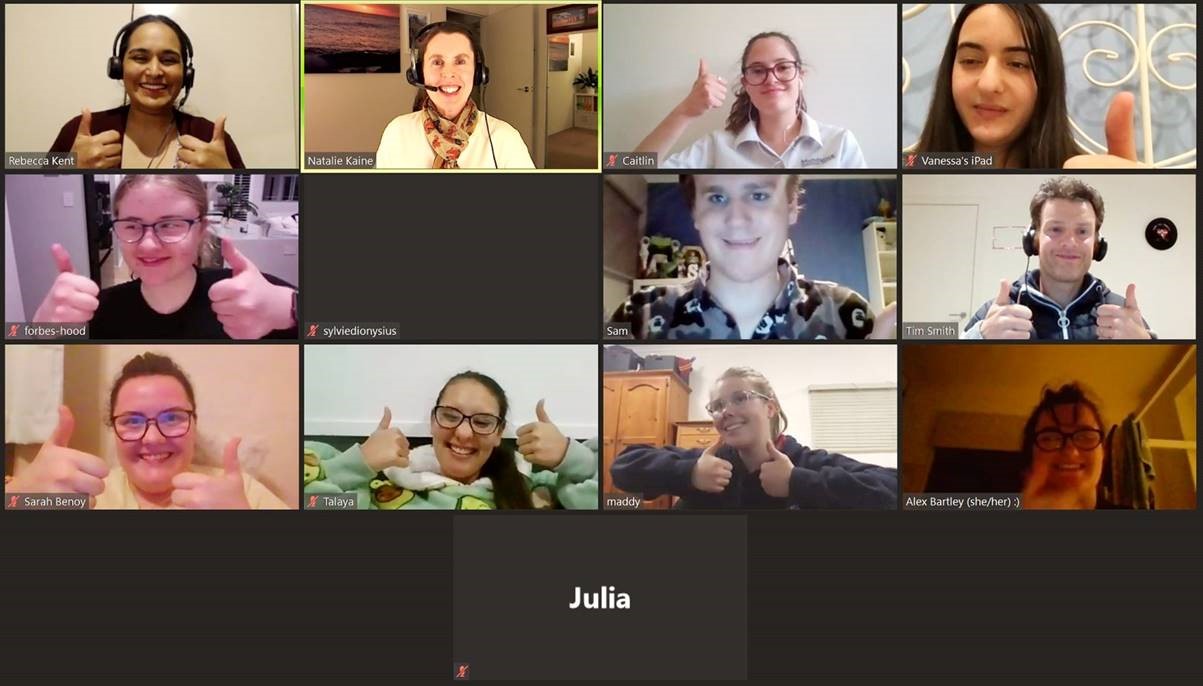 [PD: LEAP 2020 participants, Tim from Winchester Search and LEAP team smiling and giving a thumbs up in a Zoom video call.]
For many LEAP participants, preparing for mock interviews was the first step into a future filled with career satisfaction and success. Now armed with skills to prepare a resume and cover letter, having completed their first professional interview and receiving tailored feedback from senior Vision Australia staff, LEAP participants continue to forge ahead in their employment journey.
If you, or someone you know, would like to know more about the LEAP Program, please email [email protected]. Applications for the 2021 LEAP Program are now open on our LEAP website.