Chloe Naughton is Melbourne Fashion Festival's chief Fashion Programmer. It is Chloe's job to make sure Australia's largest fashion event dazzles the crowd and brings style, sass, and inspiration to their audience through the world of fashion.
So, who better for our LEAP 2020 participants to learn tips on dressing professionally than from Chloe herself?
This past Thursday evening saw LEAP participants meet with Chloe to learn all things fashion and style in the professional context. LEAP participants learned there are many ways to dress professionally. For some this might involve a classic suit jacket and for others this might be an amazing pair of closed-toe shoes to complete the look.
Chloe spoke about the importance of feeling confident and comfortable in your outfit because when you do, you can walk into every meeting feeling sharp and ready to tackle any challenge.
"I'm a big believer in dressing for the job you want, not the job you have (or don't have) and a big part of that is being an elevated and polished version of your unique self" Chloe says. "There is no blanket approach for fashion, it's all about learning what styles, fabrics and colours you are drawn to and why. From here you build a wardrobe that is uniquely you based on your own personal taste."
LEAP participants learned that putting your best self forward when going to a job interview, networking, or attending formal events doesn't mean you should lose your unique personality and style. Chloe lives and breathes fashion and champions the importance of expressing your personality in what you wear (and yes, avocado socks do have a place!).
"There are so many reasons why we wear what we wear and it's really interesting when we look inwards and ask ourselves that question. From here you can explore and experiment with so many different styles and ultimately, it's about what makes you feel the best." Chloe says.
Chloe also shared tips and tricks on building a fantastic, environmentally conscious, and cost-effective wardrobe where all garments are used for multiple purposes.
LEAP participants now understand that when they dress as a polished version of themselves, not only will they feel confident and capable, they will look it too.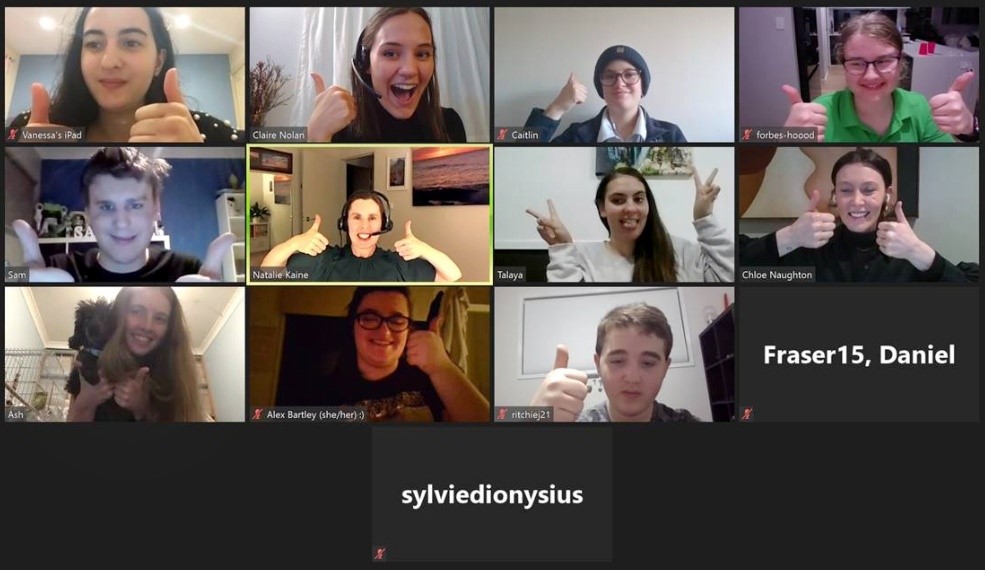 [PD: LEAP 2020 participants, Chloe Naughton from Melbourne Fashion Festival, and LEAP team smiling and giving a thumbs up in a Zoom video cal.]
If you, or someone you know, would like to know more about the LEAP Program, please email [email protected]. Applications for the 2021 LEAP Program are now open on our LEAP website.