"I've learned some really useful skills from LEAP, like how elevator pitches work, how to prepare for an interview, as well as resume and cover letter writing.  These are all skills I will definitely be using in my future and I am thankful and happy I learned them with LEAP", said Alex, a participant from the graduating class of the 2020 LEAP (Learn, Engage, Act, Perform) program.
In the final LEAP meeting, Alex shared the (virtual) stage with her fellow graduands as they completed their last activity before celebrating together in their graduation.
With excitement, passion, and a few nerves, LEAP graduands delivered insightful and empowering presentations for their audience. Joined by family, friends, Vision Australia CEO Ron Hooton, board member Darren Fittler, staff, guest speakers and mentors to the LEAP program, LEAP graduands practiced and perfected their public speaking skills – their final learning activity for the 2020 program.
With topics including "Life Through the Lens", a presentation by Alex on how she uses photography to see the world, "Where'd all the Good Teachers Go?" a powerful commentary on the schooling experiences of Talaya, and "Self-care" a deeply personal presentation by Sylvie that resonated with many, LEAP graduands treated their audience to an array of presentation topics and genres.
With their final task complete, graduands and guests celebrated the achievement of successfully completing the employability and leadership program.
Regular guest in the program and LEAP's biggest supporter, Vision Australia CEO Ron Hooton shared his experience with this year's LEAP program.
"I have had the opportunity to meet the LEAP participants several times over the year and I have been impressed by their growth over such a short time. Tough 'mock interviews' followed by outstanding presentations at the LEAP graduation are a testament to the skills and confidence that our young people have developed over the course of LEAP program," Ron said.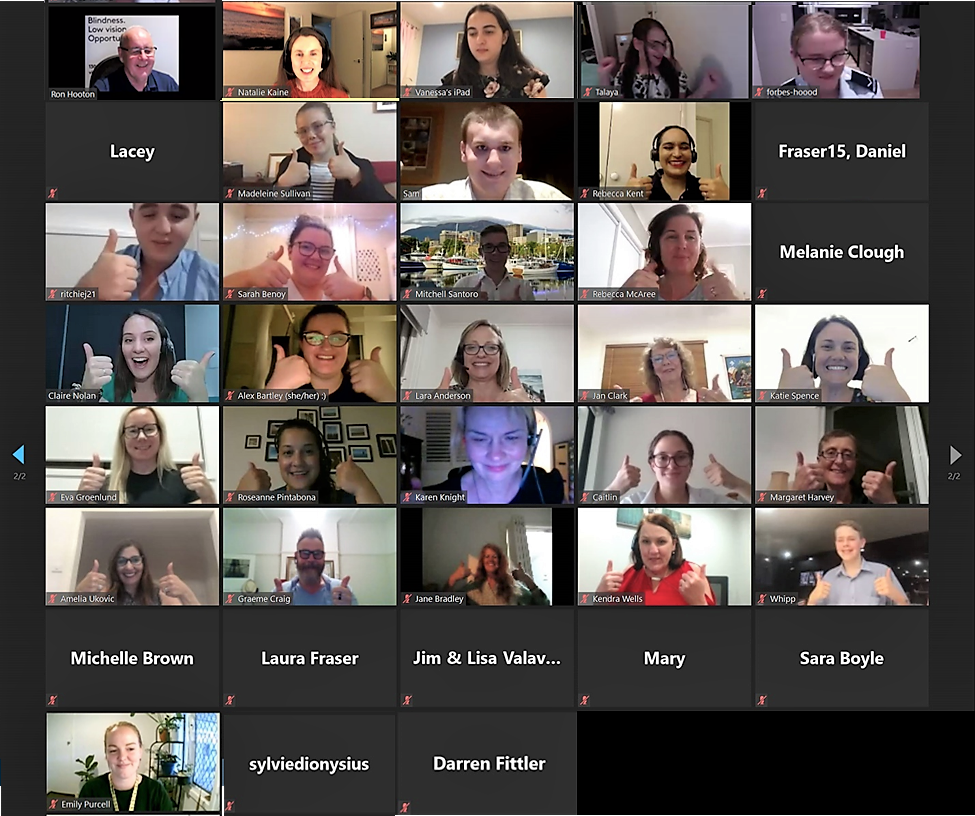 [PD: The LEAP Class of 2020 meeting virtually through Zoom]
Prepared with new skills in public speaking, job searching, resume writing, interviewing, networking, and emotional intelligence, as well as new friends from all around Australia who really understand them, who really "get it", LEAP 2020 participants are ready to tackle their personal and professional goals with confidence.
"Great programs like LEAP don't happen by accident. We have a fabulous team at Vision Australia who came together to deliver a remarkable program," Ron said.
Claire Nolan, Co-ordinator of the LEAP Program, recently appeared on the Talking Vision podcast to discuss the program in further detail.
Would you like your child to build confidence and skills in employability and leadership? To register your interest to participate in LEAP 2021 or find out more, visit our LEAP website or call Vision Australia on 1300 84 74 66.