17 June 2021
Nathan Johnston wears a lot of hats: ironman, triathlete, motivational speaker. He is also legally blind.
Diagnosed with retinitis pigmentosa, the 35-year-old has been hard to catch up to.
He is now embarking on becoming a qualified remedial masseuse having almost finished his Certificate IVat TAFE Sutherland College.
His qualification came with the help of Vision Australia's Further Education Bursary program, which funded some of his course equipment and technology to make life easier.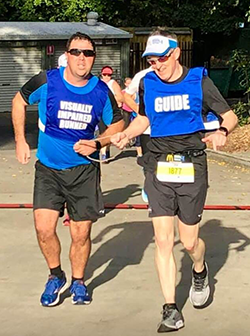 He was awarded a Blaze ET, Toshiba Dynabook Portege X40, MedCentre Talking Alarm Clock, Small tactile timer, Aftershokz Trekz Air Wireless Headphones and a Smart Travel Lamp.
One of the niftier gadgets from the bursary is his talking blood pressure monitor.
Nathan has returned to tertiary education after finding his work diminished in 2020 due to the COVID-19 pandemic.
 
I went back to study at a mature age to get a qualification, to grow my education and try and get some more employment," he said.
I struggled at high school and what direction I wanted to go because of my vision loss."
 
Alongside his qualifications, Nathan has quite the impressive side hustle as a motivational speaker.
 
The perception of disability for a long time is that people with a disability don't succeed or achieve," he said.
So I try and push the boundaries as much as I can."
 
The bursary has also helped Nathan adapt to new challenges, especially when his speaking gigs had to go online.
 
My laptop has been my whole life," he said. "It certainly helped."
 
The Vision Australia Further Education Bursary program has supported more than 400 students achieve their dreams of tertiary study since 1996.