White canes come in all shapes and sizes, and the latest to hit the Vison Australia store comes with its own in-built horn.
That's right, you can make sure your path is clear with a loud 'beep beep'.
Talking Tech radio show host David Woodbridge is road-testing the new cane, and says the horn is quite impressive.
"It's really loud and will certainly get people's attention, and you can use it in both online and offline modes," he said on the latest Talking Tech episode.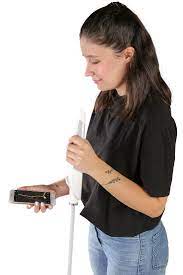 Photo: A woman holds the Wewalk smart cane and her phone.
The Wewalk smart cane allows the user to do obstacle detection via the inbuilt sonar unit. It uses a touch surface with gestures to operate, so you can change settings and without taking your hand off the handle.
It's also available on Android or IOS (Apple) devices.
It's a bit like a three in one device, David admits, as it functions as a usual white cane, and includes a very good map app, plus has obstacle detection.
Listen to David's initial review of the Wewalk smart cane in the player below (starts at 1:20 minutes)
A full product review and more tips and tricks with the Wewalk smart cane will come in 2022w, as it hits the Vision Australia Store.
Year in review for 2021
See David Woodbridge's final webinar video of the year via the youtube playlist.
Hear more tech tips from a blind and low vision perspective every week on Talking Tech, Tuesday 4.30pm AEST or catch up with the podcast via Spotify, Omny, Google Podcasts, Apple Podcasts.