Thomas Reid was at his prime, working as an IT developer in New York and father of two before cancer changed his life's trajectory.
Retinoblastoma affected his eyesight, losing one eye in 2004, then another 35 years later, leaving him totally blind.
Speaking to Vision Australia Radio's Studio 1, Thomas created his own podcast series Reid My Mind to link others with low vision or blindness.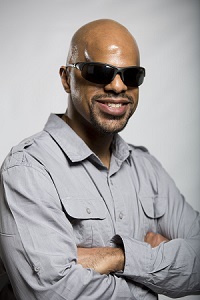 Photo: Thomas Reid.
"Blindness is still a low incident thing that occurs, right?" he told host Matthew Layton.
"So you may not have the chance to meet someone [who is blind].
"Maybe you meet someone in passing, but you don't have a chance to sit down and meet a lot of people and really get to know them.
"And I think the podcast is the way that I want to put that out there."
His love of audio production and technological prowess was exactly the preparation he need to create a great sounding, professional podcast and eventually, developing great audio description.
"So there's always some bias in audio description," Thomas said.
"I got involved with audio description to do that right.
"To highlight certain things that aren't working, to talk about how we can make it better and to highlight some people doing creative things with audio description."
Listen to Reid's full interview in the player below:
Studio 1 is Vision Australia Radio's weekly look at life from a low vision and blind point of view.
To get in touch with the show. Call or text: 0450 078 834 or email [email protected]