Nikki Hind is Australia's first blind fashion designer and one of the recipients of a 2020 Vision Australia Award.
She is the founder of Blind Grit, a fashion label which specifically celebrates the work of people with disabilities.
Nikki was born legally blind in her left eye and lost half the vision in her right eye later in life.
"During my pregnancy with my first child I had a stroke and that wiped out my field of vision in the outside half of both eyes," she said.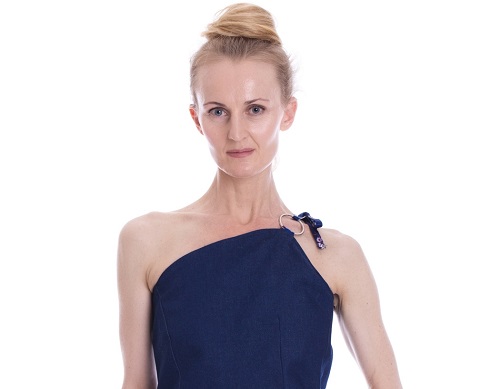 Caption: Fashion designer Nikki Hind received a Vision Australia 2020 award
Nikki has had a love of fashion for most of her life but it wasn't until she lost her vision that she made the decision to pursue fashion design.
"I wanted to be the best version of myself I could be, to be the best mum I could be.
"I needed a goal that would motivate me to overcome the obstacles that come with living with a disability and living with trauma.
"Fashion design was that goal."
Nikki has gone on to accomplish a great deal with Blind Grit and has become a role model for people with disabilities.
"I've received nothing but lovely validation and praise from the disability community," she said.
Vision Australia CEO Ron Hooton said Nikki's contributions made her extremely worthy of the Vision Australia Award.
"In my view, Nikki is an absolute role model for entrepreneurship," he said
"She has been a panelist on our Career Sampler event and is Australia's first and only blind fashion designer
"I can't think of a more worthy recipient than Nikki."
As a result of her outstanding achievements and the extensive support she has given to Vision Australia, Nikki is one of this year's Vision Australia Award recipients.
"I'm delighted to be receiving the award," Nikki said.
"I feel so honoured."
The Vision Australia awards were first handed out in 2006 to recognise and celebrate individuals and organisations who contribute their time and resources to support the work of Vision Australia and the wider blind and low vision community.