Vision Australia client Gwen Isaac shares her experience of International White Cane Day 2013.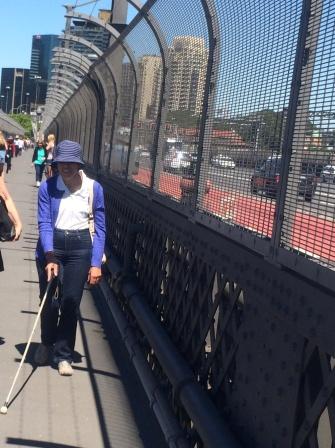 Imagine walking anywhere with your eyes covered and having to rely on hearing, smell and atmosphere. If you were at Circular Quay, or on the Cahill Expressway or on the Sydney Harbour Bridge on White Cane Day (15 October 2013) then you would have met some blind people with canes and dog guides walking freely absorbing the sounds, smells and atmosphere of a Sydney spring day.
On arrival at Circular Quay station our sighted companions described to us the glorious view from the train of the Opera House, the Sydney Harbour Bridge and the jacaranda trees in the background. Walking through Circular Quay brought back happy memories of last year's celebration with the smell of the sea, the Aboriginal busker playing his didgeridoo and the buzz and activity that is Circular Quay.
Taking the lift to the Cahill Expressway we then walked to the approaches of the Sydney Harbour Bridge. The freedom of walking across the bridge with our canes and dogs, feeling the pylons and hearing the cars rushing below us was something special. After a short break and some photos taken of us on the bridge with the Opera House in the background we walked the rest of the way across to Milsons Point, down some stairs through the station to the entrance to Lunar Park.
After lunch we boarded the ferry for Circular Quay. The lapping water and the rocking of the ferry gave me a much needed nap. I had the unique experience of traveling on bus, train and ferry in one day. After farewells at Circular Quay we were homeward bound, all having enjoyed the day.
I wish to thank the orientation and mobility instructors for organising such an event and to the volunteers who were our guides and helpers.
May White Cane Day be an opportunity for us to make the general public aware of our abilities and the importance of making our streets and transport system safe and accessible.
Gwen Isaac