Being part of social change to enhance the lives of people with disability across the globe wasn't originally part of Hamish Mackenzie's career aspirations.
But after losing his vision due to a major car accident in 1996, Hamish has spent the past two decades implementing significant change in our community.
"After the car accident in Dubai, I accepted what happened to me quickly. I was very happy to be alive as I was millimetres away from death. But I had the thought of 'what am I going to do with the rest of my life without my vision'.
"It was difficult to get the support I needed in Dubai as there were no services like what's offered at Vision Australia or in in the UK, which is where I went to get support straight after my accident. In time, a series of events led to some prominent decision makers in Dubai inviting me to set-up a similar service there," says Hamish.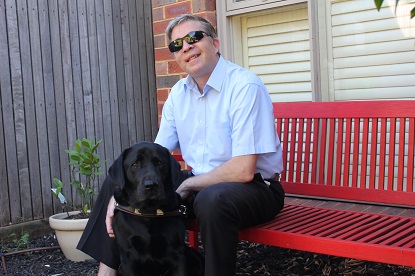 With the support of Vision Australia, Hamish led the foundation of Tamkeen, the UAE's first centre for people who are blind or have low vision, enabling locals to have access to the suite of training and resources that are offered at Vision Australia. The significance of the project was recognised by Sheikh Mohammed bin Rashid Al Maktoum, the ruler of Dubai, who officially opened the centre in 2003.
Today, the 47-year-old is ANZ Global Accessibility Manager and continues to support people living with a disability.
"Making sure that our 30 websites in Asia, Europe, the US and New Zealand are accessible is my primary responsibility. I spend lots of time talking to ANZ business units, architects, developers, designers, testers and management about what I do. Education is the most important thing to ensure that what we've created is accessible. There's always room to improve but the momentum is shifting to creating a banking environment that meets the needs of all customers," says Hamish.
Hamish's boss Darren, ANZ Head of Mobile and Digital Banking, wants employers who are hesitant to hire candidates like Hamish to reconsider.
"Hamish informs and inspires our technical teams and partners on what it is required to create a more accessible world for all," says Darren.
In the lead up to the Victorian state election, Vision Australia is highlighting some of the successful employment stories of our clients. We believe in creating more job opportunities for people who are blind or have low vision. If this is important to you, please join us and share your voice.