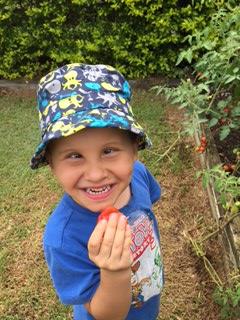 Although he is only nearing his fourth birthday, Aston Agostinho, has already developed a great love of books and creative story-telling.
This is despite having low vision, caused by Familial Exudative Vitreoretinopathy – a genetic eye condition that affects the growth and development of the blood vessels in the retina.
Reading and story-telling are ranked highly in the Agostinho household and Aston's mum, Jackie, has read to him and his older brother, Byron, since they were babies. Jackie believes that both skills are essential in developing a child's imagination, and helping them to communicate, and share their feelings.
"Aston has a big vocabulary. Even from a young age, he was able to hold a conversation," said Jackie.
"As a family, we love being able to spend time with our children reading books and talking about a story. Sometimes to make story time fun, we change the words around."
Aston was introduced to Vision Australia's Feelix Library when he was younger. Feelix is a unique library that caters for children aged seven and under, who are blind or have low vision. It enables young borrowers to enjoy the same stories as their sighted peers, while being introduced to braille and tactile materials, all essential for early literacy development.
"The great thing with the Feelix Library is that each kit contains toys related to the story. When Aston reads, he can also touch and feel elements of the story."
Now that Aston is in a pre-prep program and attends kindergarten five days a fortnight, he is learning pre-braille and will go on to learn braille.
After a long day at 'school', Aston loves nothing more than snuggling up in bed and listening to an audio book on his CD player.
"For a child who has had a vision-impairment since he was little, I never thought he would love books and words as much as he does. He actually carries around my mum's thesaurus."
Jackie says that in Australia, children who are blind or have low vision have a great level of support.
"It is so important for every child to have access to books. Parents of children, who are blind or have low vision, need to find out what resources are available to them, so they can start their child on the road to reading," concluded Jackie.
Recently Vision Australia was grateful to receive an $18,000 donation from the Newcastle Permanent Charitable Foundation to support the creation of 60 Feelix book kits for children, like Aston, who are blind or have low vision.

"One of the core aims of the Newcastle Permanent Charitable Foundation is to help vulnerable members of our community to overcome disadvantage and Vision Australia's programs are exceptional examples of breaking down barriers for young people who suffer vision impairment," said Newcastle Permanent Charitable Foundation Chairman, Michael Slater.

Vision Australia's national library sends kits to around 600 people nation-wide. This includes children, teachers and kindergartens. There are more than 1580 titles in the collection.