Lindsay is the type of employee that leaves an unforgettable impression. The 29 year-old isn't interested in a typical career path.
Six years ago, the former captain of the Blind Cricket Australia squad entered ANZ's graduate program. His performance was so exceptional that he left the program early to accept a management position with the company. Today, the Sydney-based Credit Manager leads a team of nine employees in Manila.
"If I wanted to take the usual career path, I wouldn't have accepted opportunities like relocating to Singapore and Sydney. I grew up in an environment where it was only acceptable to succeed," says Lindsay.
Yet Lindsay's career pathway is rare. The majority of people who are blind or have low vision encounter huge misconceptions and many barriers in workplaces including employers having low expectations and workplaces being inaccessible.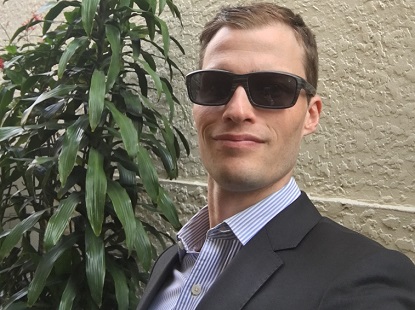 Lindsay wants more employers to diversify their workplaces.
"Employers need to acknowledge that if a person with a disability has reached the interview stage, the odds are that he or she will work harder than the person without a disability. You will just have to make some reasonable adjustments but you'll get back so much more in the long run if you have the foresight to see that," says Lindsay.
In the lead up to the Victorian state election, Vision Australia is highlighting some of the successful employment stories of our clients. We believe in creating more job opportunities for people who are blind or have low vision. If this is important to you, please join us and share your voice.