Get Krack!n, the morning show that made you want to go straight back to bed is back for a brand new season and this time it comes with audio description!
Can you believe the world's earliest morning TV show is still on air with no-one more surprised and fatigued by this fact than the show's hosts, "trained actor" Kate McLennan and the "personality-challenged" Kate McCartney.
In collaboration with the producers of the show, Vision Australia Radio will be airing the entire season with audio description (AD) on Vision Australia Radio each Wednesday at the adults-only time of 9.30pm in Melbourne, Victoria and Perth and 10.30pm in Adelaide.
Episode one begins this week, and it's the final stop of Get Krack!n's "We Bloody Love Australia" tour where The Kates find themselves aboard a paddle-steamer on the Mighty Murray River during a hostile weather event that threatens to derail the broadcast.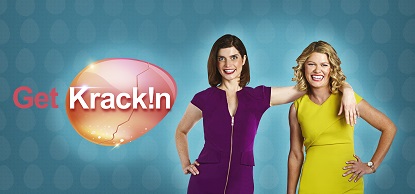 Vision Australia National Coordinator Audio Description Michael Ward said the opportunity to work with Get Krack!n is exciting for Vision Australia and the wider blindness and low vision community.
"Australia unfortunately remains one of the few developed nations without audio description on free-to-air TV, so it's exciting for our team to be able to help bring an Australian made show to life for people who are blind or have low vision," Michael said.
With Get Krack!n being an irreverent and sometimes explicit take on morning TV, Michael said the audio description for the show may differ slightly from what people are used to.
"In fact, it takes the decade-long smouldering debate about AD on Australian TV and douses it with petrol!
"We've tried to keep the audio description in the same vibe as the show. Like other audio description we'll be giving viewers who are blind or have low vision a better understanding of the visual elements of the show, but at the same time it will play into the show's humour. It's audio description, but not as you know it."
To tune in to the audio described Get Krack!n broadcasts, set your radio to your local Vision Australia Radio frequency or head to the Vision Australia Radio website.