09 September 2021
Australian Paratriathlete Katie Kelly doesn't sugar coat her sport.
"It took everything out of me," she said of her efforts in the Tokyo Paralympics in August.
A 750m swim, 20km bike ride and 5km walk, all in just over an hour.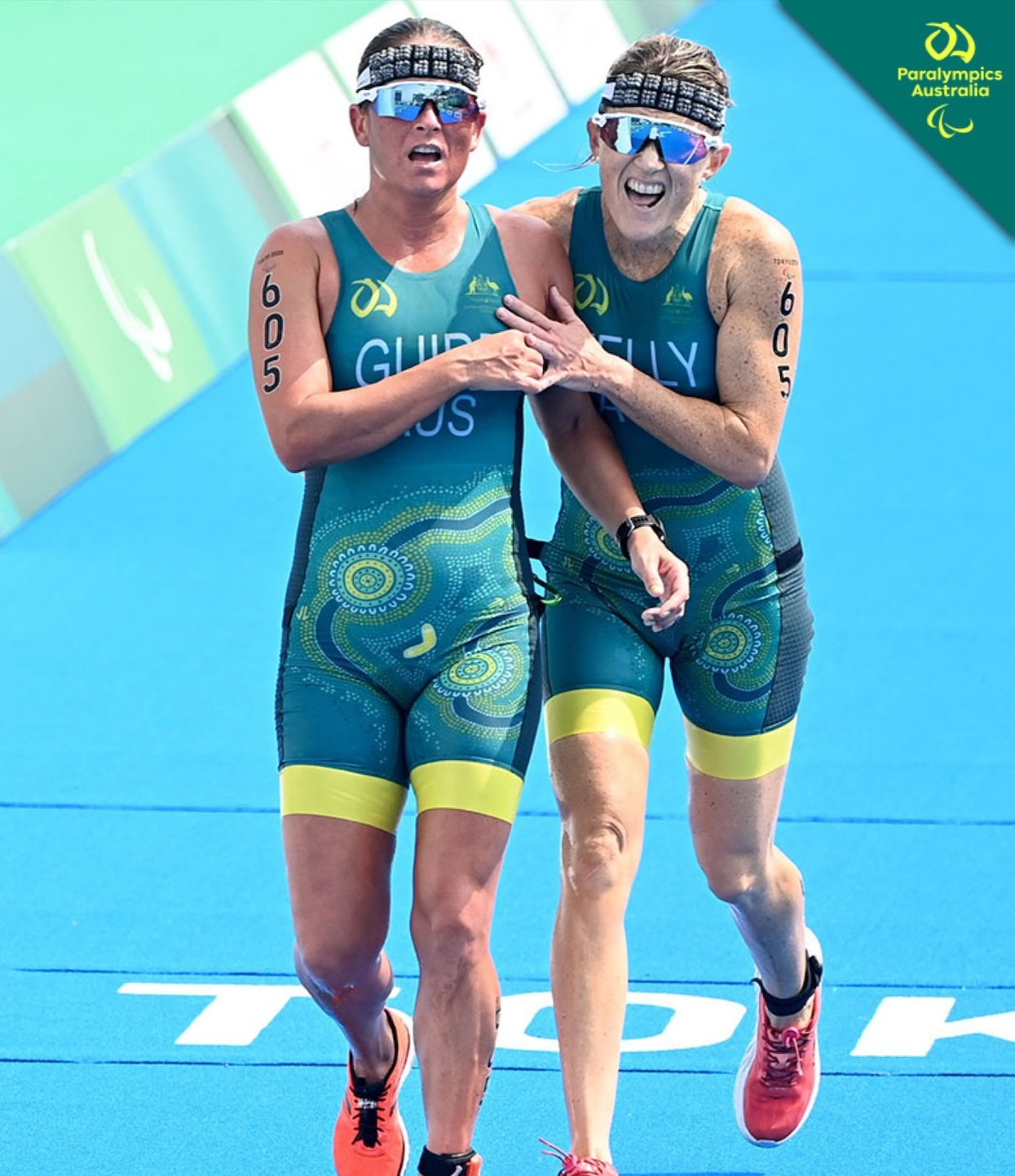 Image: Paratriathlete Katie Kelly (R) alongside her guide Brie Silk at the 2020 Tokyo Paralympics. Credit: Paralympics Australia.
She came a valiant sixth in the PTVI (para-triathlon vision impaired) category, missing out on capturing another gold but still amazed at her efforts.
 "I never imagined I would go to a Paralympics let alone two," she said.
Speaking to Stephen Jolley on Vision Australia Radio's Talking Vision this week from Tokyo, the 46-year-old is still processing the her last race.
"It was quite fast, there were some technical corners," she said.
"For me there is much more than the swim bike run. It's intense, it requires absolute 100 per cent focus to execute every element of that race."
Fellow triathlete Brie Silk guided Katie in her race. For the last four years Brie has woken up at 4am and travelled from Brisbane to the Sunshine Coast to train three times a week with her.  
"It's a huge investment on her part, she's such a selfless person so committed," Katie said.
Katie has Usher's syndrome, a hereditary illness that that affects her hearing and vision. She is legally blind and has profound hearing loss.
Sport hasn't been easy for her despite her prowess.
"I did struggle in sports when I couldn't hear the coach or in swimming when I didn't have my hearing aids on."
After competing in Rio five years ago, she decided to create Sport Access Foundation as a way to provide financial assistance for Australian children who have a disability.
"There are additional barriers to access a sport if you have a disability.
"We don't have the same opportunities to choose a sport, we're somewhat limited."
Hear more in Katie Kelly's full interview on Talking Vision.
Talking Vision is a weekly discussion of issues relating to blindness and low vision.
It includes stories of inspiration and achievement and information on services for the community.
Tell us your story by emailing talkingvision@visionaustralia.org