20 October 2021
Cameron Algie has hosted hundreds of emotional support groups for people living with vision conditions, and surprisingly, the same topics always come up.
"Vision loss is very hard to describe," Cameron told Vision Australia Radio's Talking Vision.
"Sighted people don't understand it and therefore react sometimes inappropriately by overcompensating and disempowering people."
Really, the only people who can truly relate to vision loss are the ones who have experienced it, Cameron believes.
Former Vision Australia employee turned author, Cameron related to his group members on the same level, as he experiences low vision due to retinitis pigmentosa.
His findings and teachings from all the groups he hosted is now available for all in his novel, I Can See Clearly Now.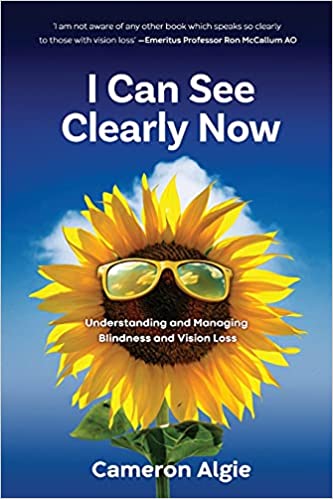 "I was doing this group work for 14 years, there was a similarity of the issues that clients came in with, and many of which I had experienced myself," he told Talking Vision host Sam Colley.
The lack of information out there for those who are newly diagnosed or for their loved ones also spurred on Cameron to write the book.
He has covered all ages and all stages of blindness in life. Divided into three parts, the first covers the psychological response to vision loss, the grief, loss, depression and anxiety of it. The second delves into issues of schooling, employment, parenting, dating and so on, while the third part is about all the practical advice and services available to start becoming independent.
The book is now available at all good book stores and online, including Booktopia, Amazon, and Angus and Robinson.
Also, for those interested in learning more about how those with a vision condition access books and use specific technology to read, come along to Vision Australia and The Writer's Festival free online event.
Event: Read My Way: An exploration of accessible formats
Date: Nov 14 Sun,
Time: 10:30am (AEST)
Cost: Free online
Register link: https://www.visionaustralia.org/radio/community/events/2021-09-12/read-my-way-an-exploration-of-accessible-formats
Listen to more details on the event in the player below: