Jude Welsh lost her vision unexpectedly in 1999 as the result of an accident that damaged her optic nerves.
As a result, Jude lives in darkness with no vision.
As Jude came to terms with vision loss, she came across Vision Australia. Beginning with some white cane training, Jude quickly began using a range of other services, with Telelink being of particular benefit.
"Being able to talk to people going through similar vision loss to me was really helpful in helping me get back out there," Jude said.
Even now, 22 years later, Jude is still finding services in Vision Australia that are helping her regain independence and keep doing what she loves.
Jude was always apprehensive about learning braille as it seemed quite a daunting task, but weekly braille lessons with Vision Australia have quickly become a favourite.
"I can't wait for Tuesdays now," Jude said.
"It's opened up an entirely new world for me."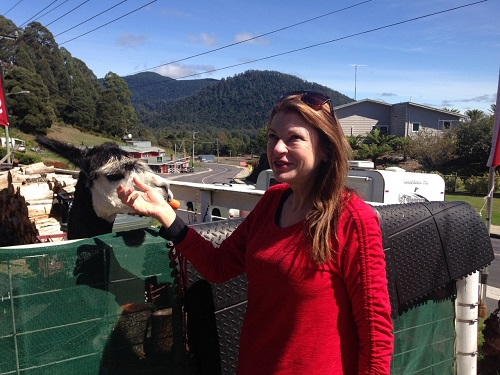 Caption: Vision Australia has supported Jude with a range of different services over more than 20 years. 
Her braille teacher, Karen, recently pointed Jude in the direction of the Dickinson Memorial Competition which is open to adults who are blind or low vision to submit short stories or poems.
"It's a great competition as it provides me the opportunity to help people understand what life for someone who is blind or low vision is like."
When she's not writing short stories, Jude can be found with a guitar in her hands, writing and singing songs.
Over the past few years, like many other people, Jude became a bit introverted and isolated due to lockdowns, but Vision Australia's assistive technology specialists have helped her explore the world at her own pace.
"I honestly don't think I'd be able to function as a person without Vision Australia's assistance," she said.  
"To be able to join my partner on his motorbike, use my white cane and skills I've acquired to get around, they've really opened up my world."
Could Vision Australia help you? Call 1300 84 74 66 or email [email protected].