Renee Rich's passion is helping people and as a Vision Australia orthoptist, she's in a position to do just that.
Renee works with people who are blind or have low vision of all ages and circumstance.
A significant part of her work is helping people understand the level and functionality of their vision.
"I love being able to get to know my clients," Renee said.
"And to help them understand their own vision and condition," she said.
From there, Renee also assists people to determine the strategies and visual aids – such as lights or magnifiers – that will allow them to maximise their vision and allow them to not only live independently, but enjoy the interests they would not have access to otherwise.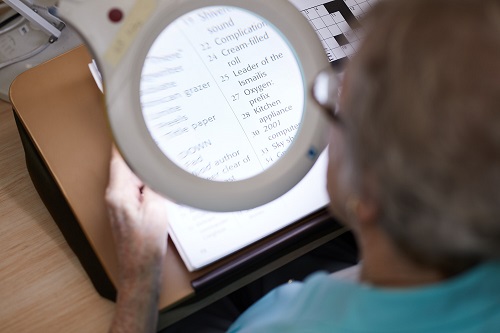 Caption: Renee often helps people understand how magnifiers can support them to access information and carry out daily tasks.  
Many of Renee's clients have difficulties reading small print, so a lot of their goals involve developing strategies to access such material.
"I love working with clients on these reading goals and trialing different magnifiers, lighting and other tools to enhance their vision so they can get back to reading what they love."
Vision Australia provides a wide range of blind and low vision services. Find out how Vision Australia can help by contacting 1300 84 74 66, or emailing [email protected].