Cassandra Chui was the first woman in Singapore to use an assistance dog and while the societal challenges were steep the "unparallel benefit" she experienced ignited her passion for advocacy.
In 2020 Cassandra established K9 Assistance, an assistance-dog organisation for people with a disability.
"Esme empowered me to fulfil my many different roles, professionally and privately. Through her presence in media and out in public we changed Singapore's attitude to assistance dogs for blind people," Cassandra said.
"When Esme was retiring I realised I wanted our hard work to benefit other people with a disability, beyond blindness and low vision. Assistance dogs for people with autism, mobility issues and who are deaf or hard of hearing can be life changing for independence, confidence and mobility," she said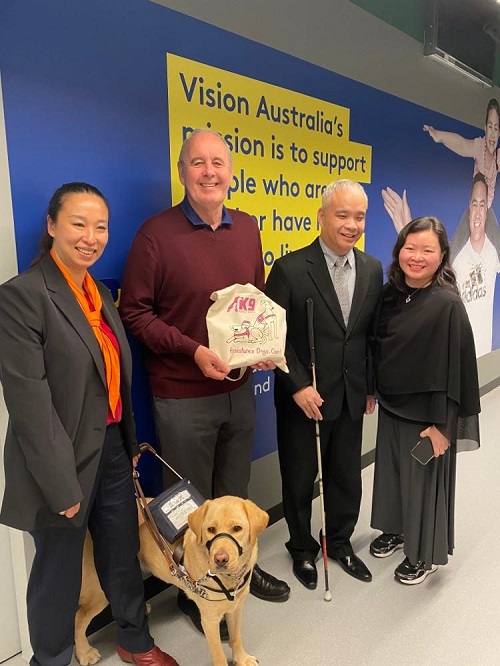 Caption: Vision Australia CEO Ron Hooton, second from left, with the K9 Assistance delegation. 
Cassandra and K9 board member, Andrew Chew, were recent guests at Vision Australia and Seeing Eye Dogs.
They spoke with Vision Australia Radio about their study tour in Australia and the importance of inclusion of disability in society.
You can listen to the interview here or on the player below: