08 July 2021
Carrying a box full of LEGO® kits and a wearing a handmade emoji name tag, LEGO® Master Model Builder Kieran Jiwa was quite the superstar at Vision Australia's school holiday program.
The master builder donated his time on Tuesday 6 July to help students who are blind or have low vision become mini LEGO® architects.
The school holiday program aims to entertain and educate students with vision conditions from the age of seven to 12. Through numerous activities, they are encouraged to develop their social skills, learn how to use accessible technology and cultivate independence.
For the LEGO® session, Kieran worked hard to make the activity inclusive, giving each student a bowl to place their LEGO® so they can find the pieces easily.
He was also joined by Vision Australia's occupational therapists who helped the students with their assistive technology so they could read instructions better and find the corresponding small pieces.
"I'm here to learn for myself, on what it takes to teach kids who are blind or have low vision," Kieran said.
The students were tasked with constructing two kits, one from their favourite Minecraft game, and the other, a train. They were able to keep their finished product to show their family.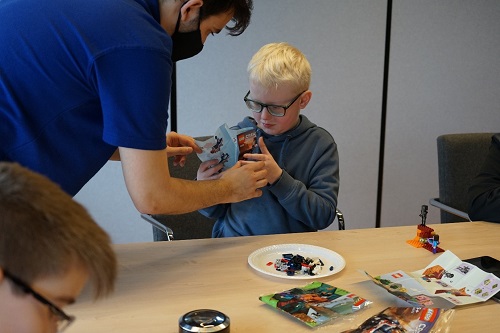 Caption: Caption: LEGO® master builder Kieran Jiwa helps a student with the LEGO® instructions.
Vision Australia Victorian manager of children and youth client services Harzita Hashim said the program is unique because it gives students the chance to interact with other children who are going through similar circumstances.
"In some cases, the kids are meeting others with the same diagnoses," she said.
"It's a wonderful opportunity for them to be themselves."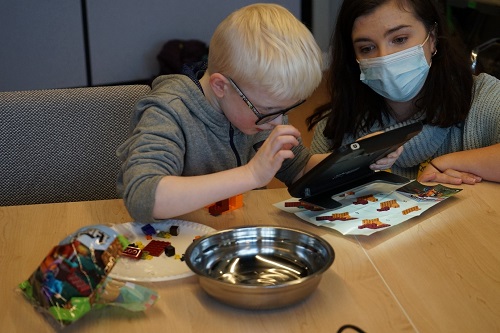 Caption: Participants used assistive technology to help them access and enjoy LEGO®
The program runs four times a year during the school holidays and includes excursions, cooking sessions and accessible sport alongside lots more.
Recently LEGO also released LEGO® Braille Bricks which helps children learn braille through play. Each brick has a number or letter in braille which can be arranged to create words or math problems.
Vision Australia offers training and workshops in LEGO® Braille Bricks.
For more information on the school holiday program, call Vision Australia on 1300 84 74 66 or email info@visionaustralia.org