04 March 2021
Perth kids who are blind or have low vision are set to get their hands on the latest equipment designed to help them learn vital literacy and STEM skills thanks to Vision Australia.
LEGO® Braille Bricks and the Microsoft-developed Code Jumper will be the focus of the three-day Connecting the Dots school holiday program to be held by Vision Australia in April.
LEGO® Braille Bricks is an educational tool designed by the LEGO® Foundation. The raised bumps on each LEGO® Braille Brick have been modified to correspond to a letter or character of the braille alphabet.
Developed by Microsoft, Code Jumper consists of tactile system of oversized buttons, knobs and cords and provides an introduction to coding for children who are blind or have low vision.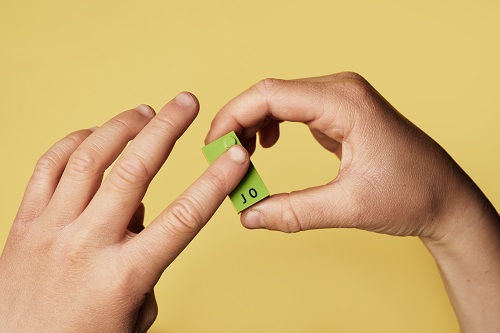 Caption: LEGO® Braille Bricks is designed to support children who are blind or have low vision learn braille skills.
Donna Fahie, Vision Australia regional client service manager, said the Connecting the Dots program will provide children who are blind or have low vision the opportunity to learn through play.
"Being able to observe the world around them plays a big part in sighted children developing skills such as literacy, those observations also help them understand what career options may be available to them later in life. Unfortunately, children who are blind or have low vision often miss out on that," Donna said.
"Taking a childhood favourite such as LEGO® and incorporating braille with it is a great way for us to be able to introduce children to braille and ensure they're developing their literacy, communication and other skills alongside their sighted peers," she said.
"Similarly Code Jumper takes something like coding that may seem off-limits to people who are blind or have low vision and makes it accessible. Developing coding and similar STEM skills is something that can open up a world of opportunities for our clients."
The Connecting the Dots program is open to children aged four to 14 and will be delivered through three two and half hour sessions over consecutive days. Program content will be tailored to be age appropriate for each session's age group.
Spaces are limited and registrations are essential. Check out the Vision Australia website for further information or get in touch via perth@visionaustralia.org or (08) 6246 4505. 
Ends.
For further media enquiries: Phil McCarroll, 0416 632 253
About Vision Australia
Vision Australia is a leading provider of blindness related services. We offer a wide range of services, equipment and training so people who are blind or have low vision can live the life they choose.
Whether it's at home, work, school or in the community, our expert staff provide clients across all age groups with skills and tools to help lead active, safe and independent lives.
Visit our website at www.visionaustralia.org.