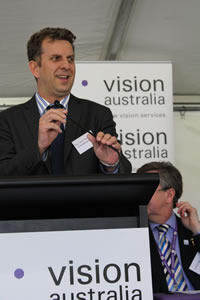 The Hon. Andrew Constance MP.

Vision Australia's Annual General Meeting (AGM) was held on Friday 28 October at our Enfield Centre.
It was an excellent example of a team working together to create an important occasion, one of the key events on the Vision Australia calendar. It was a cost effective option to stage the event on site and this also ensured so many staff had the chance to attend.
Vision Australia's AGM is an opportunity to get a snapshot of the past year - the challenges and the high points. This year Gerard talked about the National Disability Insurance Scheme - how we are endeavouring to understand the proposed implications and be prepared for a scheme that has the potential to change the landscape for all of us.
Chair, Kevin Murfitt offered an overview of the past financial year and we heard from guest speaker, the Honourable Andrew Constance, Minister for Ageing and Disability Services.
The AGM is also Vision Australia's opportunity to present the Vision Australia Awards. These are nominated by staff members to recognise the significant contribution by individuals and organisations to the blindness and low vision community.