Description Journey 1
Hi, my name is Sam and I am six years old!
I have blue eyes and super cool white hair.
Bright light and sunshine can hurt my eyes and I can't see very well so I always wear trendy glasses and a hat outside.
In the playground I find it tricky to see where my friends are when it's busy, so they call out to me. If I get up really close to you please don't be worried, I am just trying to see who you are.
I have to be very close to people and things like books and art work before I can see them. And I need special equipment in my classroom to help me see my work.
Most of all, I am excited to be in Year 1.
I am making lots of new friends and enjoying the fun things we are doing this year.
Sam
Description Journey 2
Thanks to you
Looking like any other other six year old, Sam can be seen running and jumping through the school playground. He's full of energy, loves taking risks and enjoys playing with his friends.
At birth, Sam was diagnosed with albinism. Although distressing for parents, Rebecca and Simon, they were already prepared for what lay ahead as their eldest son, Ethan was born with the same condition.
Having albinism meant for Sam that he also had low vision. It is only thanks to amazing supporters like you that he was able to access early intervention services as a newborn.
'Sam is now in Year 1 and was ready to start school because of the help we received from supporters like you. Not only could he physically do the same as his peers, but he could also confidently use adaptive technology, which enabled him the same access to resources regardless of his vision,said Rebecca.

'It's thanks to generous donors like you that Sam has settled into his new surroundings with confidence.
With some extra support and specialised services he has all the tools he needs to thrive at school,'Rebecca shares proudly.

Thanks again for your continued support of kids like Sam - you're giving them the best start to life!
Thumbnail 1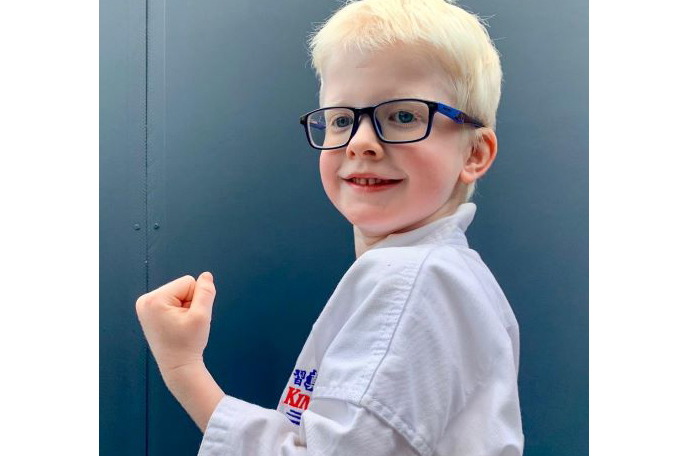 Description for thumbnail 1
Sam wearing his karate gear
Thumbnail 2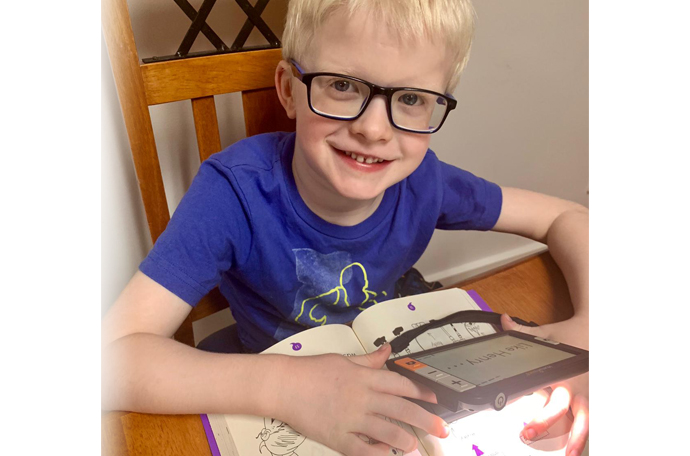 Description for thumbnail 2
Sam reading with the help of a magnifier