Sight loss affects everyone differently.
Our Low Vision Assessment Service uses personalised testing to develop a unique plan tailored to your needs.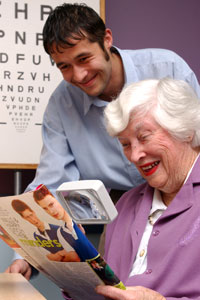 With access to the latest optical aids, specialty equipment and world class adaptive technology, together with practical demonstrations of daily tasks; your sight goals can be achieved. A Low Vision Assessment will also provide you with access to the many life-changing supports and services within Vision Australia.
Anyone can refer to the Low Vision Assessment Service. 
Health or education professionals, family members, friends, or potential clients can contact Vision Australia, or submit a referral online or call us on 1300 84 74 66 to arrange an appointment to discuss your needs and how our services can support you.
Find more information on Vision Clinics in your area.
Contact us
Contact us early and get the support you need. For more information on Vision Australia's services call our helpline on 1300 84 74 66 or email [email protected]. You can also connect with our services here.