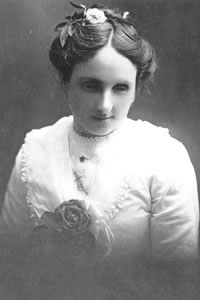 One of the most important activists in the history of disability in Australia was Matilda (Tilly) Aston.
Tilly was born on December 11, 1873 in Carisbrook, Victoria. The youngest of eight children, she was born with impaired vision and became totally blind just before her seventh birthday. The challenges Tilly faced in managing life as a woman with blindness became the impetus for her to work to improve the lives of other people who were blind. Tilly and her peers achieved not only significant advances and rights for people who are blind, but Tilly also became a celebrated author and the first female teacher who was blind.
Culture Victoria has launched a new project about Tilly Aston called Goldfields Stories: The Girl from Carisbrook. Images from Vision Australia Heritage Collection are featured in the project which tells the story of Tilly's life and amazing achievements. Vision Australia clients and staff as well as contributors from the Maryborough-Midlands Historical Society also speak at length about Tilly on the website project.
The Tilly Aston video will be playing from 14 October 2011 as part of Culture Victoria's regular spot in Federation Square screens.