Prep. I know the first year of formal schooling has different names in other states but that's what we call it here in Queensland.
Essentially Prep is preparing our little ones for big school, but what prepares our kids for Prep? I know what you're all thinking – Kim that's what kindy is for. But what happens when your child can't play in mainstream kindy as she has poor depth perception, or starts to squint and her eyes shake as soon as she is exposed to the slightest glare. What do you do then?
I know Paisley is ready for school but like many kids who are blind or have low vision, she will need extra assistance. Introducing Patricia, an occupational therapist from Vision Australia who ensures that Paisley familiarises herself with shapes, her ABCs and writing her name. But it's her special homework that she is left with that is of the most importance. Walking back and forth on the balance beam, doing step ups on the stairs and rope walks. These activities help fine tune Paisley's depth perception and hand eye co-ordination, as well as build her confidence in preparing her for the unfamiliar surroundings she will face at school next year.
I've been fortunate enough to have a close friend talk to me about what I should expect next year as she has a son who has just finished Prep at the same school that Paisley is going to. Talking to her has alleviated a lot of the anxiety I had surrounding all things Prep. There I go again with that stress-inducing four-letter word.
For now, my little Paisley will be focusing on everything Christmas. Letters to Santa, photos with Santa, and buying presents for her friends and family are high on her list of priorities.
If only the Christmas break could last a bit longer. Say another one to two years? No? Oh well, I will make the most of the time I have left with my pre-preppy.

Until next time, Merry Christmas everyone.
Side Note - This year we've had to resort to a Christmas tree wall light, as the tree was knocked over by Paisley's younger sister within seconds of putting it up... kids.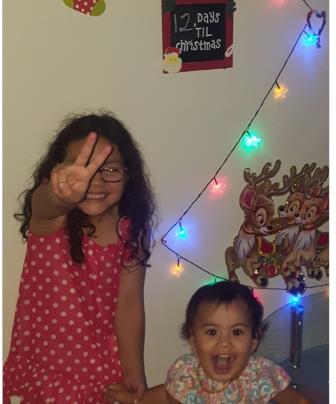 Caption: Paisley and her younger sister Parker stand in front of a wall with lights shaped into a Christmas tree.