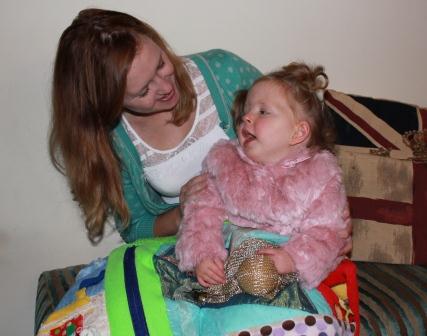 When Eleanor Hall from West Wollongong was just five months old, she was diagnosed with a global developmental delay, but it wasn't until she was eight months that doctors picked up a problem with her sight.
"I remember, my husband, Robert and I were left feeling numb when we found out about Eleanor's vision impairment. It was really overwhelming," said mum, Blaise Scaife-Hall.
Now, at two and a half years Eleanor is making good progress after the family sought specialist advice from Vision Australia.
"We have been receiving intensive support from Vision Australia since September and Eleanor has really responded," said Ms Scaife-Hall.
An Occupational Therapist from Vision Australia, visits the family regularly.
"She shows me different things we can do to help Eleanor to develop hand strength and encourage her to reach out and explore her surroundings. It is wonderful to see her interacting with her toys and reaching out to touch our faces," she added.
Vision Australia provided the family with a tactile quilt, one of 15, lovingly created and donated by the Thirroul Quilters for local children who are blind or have low vision.
"I have boxes full of toys, but the quilt is definitely Eleanor's favourite. It has lots of different things that she can touch. She especially loves the red feather and the gold ball," said Ms Scaife Hall.
Eleanor also receives Vision Australia's Feelix Library book kits.
"The kits contain a story book annotated with braille, an audio version and a tactile book, as well as some toys. She just loves them," said Ms Scaife Hall.
Vision Australia's Louise Curtin says that the purpose behind the Feelix Library is to help children who are blind or have low vision to have the same experience with books as their sighted peers.
"The kits help our youngest clients develop their listening and reading skills. It enables them to become familiar with braille and learn how to track braille words across a page," said Ms Curtin.
"The service has been incredibly successful, we started off with just 20 members and we now send kits to almost 600 people nation-wide, including children, teachers and kindergartens and we have over 1530 titles," she added.
Vision Australia helps to support hundreds of people from the Illawarra who are blind or have low vision. Drop in to the centre, 2/135-143 Princes Hwy, Fairy Meadow or call 1300 84 74 66 to find out how.