10 October 2018
Getting older Australians better connected and more familiar with technology and the internet will be the aim of a string of events across Vision Australia centres next week.
The leading blindness and low vision service providers will hold more than 15 events in locations in New South Wales, Queensland and Victoria for Get Online Week, an initiative aimed at encouraging older Australians to make better use of what technology and the internet have to offer.
Get Online Week Australia will see organisations across the country hold local events to encourage their communities to #Try1Thing new online.
Among the Vision Australia events will be specific workshops for items such as Amazon's Alexa, the Google Home, iPhone and the iPad, as well as general technology Q&A sessions and workshops, and sessions on accessing the Vision Australia Library.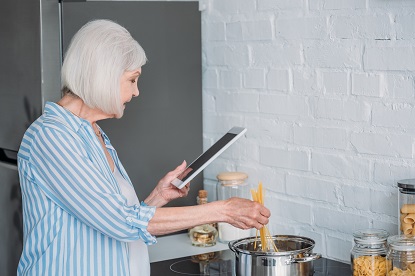 Susie Nelson, Vision Australia Commercial & National Project Manager, said the not-for-profit organisation is hoping for a strong turnout at all events.
"All of the events are free and are open to any older Australian, not just those who live with blindness and low vision," Susie said.
"Both vision loss and getting older can impact peoples' ability to remain safe at home and connected with their wider community, but technology, whether it be specialist devices or everyday ones, can play a major role in supporting people to remain active, safe and independent and we want to spread that message to as many people as possible."
The Vision Australia Get Online Week events have been made possible through funding from The Good Things Foundation.
Find the Get Online Week event closest to you.
Victoria:
Kooyong – Tuesday, October 16
New South Wales:
Parramatta – Tuesday, October 16
Parramatta – Thursday, October 18
Gosford – Wednesday, October 17
Queensland:
Coorparoo – Friday, October 19
For more information on any of the Get Online Week events, call 1300 84 74 66 or email info@visionaustralia.org.