Berbay Books, the award-winning independent publisher for children, is partnering with Vision Australia to produce three innovative picture books.
The books portray significant Australians living with blindness or low vision: a world champion surfer and paralympian Matt Formston; Australia's first legally blind fashion designer Nikki Hind, and chef Craig Shanahan. Each title uses braille along with conventional text.
Vision Australia is a leading national provider of blindness and low vision services in Australia, supporting more than 25,500 people of all ages and life stages, and circumstances.
"This project is close my heart", said Alexandra Yatomi-Clarke, Berbay CEO. "The Vision Australia library greatly assisted a family member with a disability when she was young. I am delighted to be able to give something back with the publishing of these books."
John Dickson (M is for Mutiny) will write the text. The illustrators are Philip Bunting, Claudia Frittitta and Chantel de Sousa.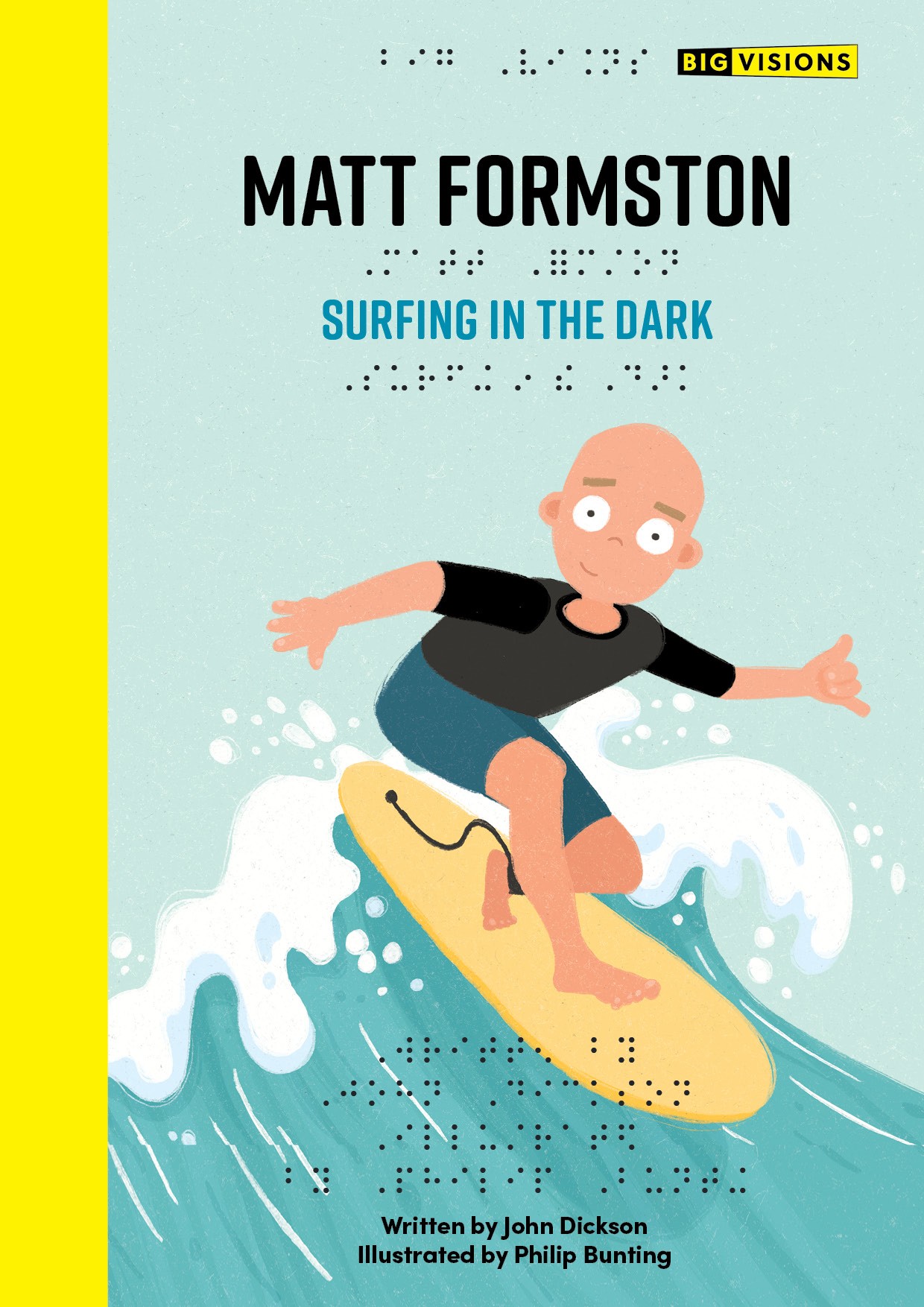 Caption: Matt Formston's story is the inspiration for the first of the Big Visions children's books. 
Philip Bunting, whose award winning and popular books are published in 30 countries said:
"Matt's story is inspirational. I hope the Big Visions series will help children (and former children) of all abilities realise what they can do with the right supports and role models to look up to. And hopefully my silly illustrations help raise a giggle or three along the way.'"
Vision Australia CEO, Ron Hooton said:
"Vision Australia's mission is to support people who are blind or have low vision to live the life they choose. Stories like Matt's are a great example of how blindness or low vision doesn't have to be a barrier to people achieving their goals. This series of wonderful books is a great way for us to spread that message and help future generations throw off the misconceptions and expectations placed on them by society."
The 32-page hardcover picture books will be released nationally, with Matt Formston: Surfing in the Dark out in March 2023.
Big Visions series
Matt Formston: Surfing in the Dark
ISBN: 978-0-6455584-0-1
RRP$25.99
Craig Shanahan: Cooking up a Storm
ISBN: 978-0-6455584-1-8
RRP$25.99
Nikki Hind: Dressed for Success
ISBN: 978-0-6455584-2-5
RRP$25.99