Yesterday I stumbled upon a meme that said "sending my kid to school makes me want to cry...tears of joy".

Funny, yet I didn't laugh. Had the impending first day of Paisley's first formal year of schooling caused me to lose my sense of humor? Had I stressed myself out so much that I'd lost the ability to find comical memes funny? What was I going to do?
Paisley's occupational therapist from Vision Australia thought it might be a good idea to have a pre-prep walk through at her new school. We got to meet with Paisley's teachers, check out the classrooms, and play on the playground. Parker, her younger sister joined in too, of course.

Under the scorching summer sun, in the middle of the playground, I finally experienced "tears of joy". Watching my little girl playing freely without a care in the world and smiling from ear to ear assured me she is ready for school. Ready and rearing to go!
My older brother, Chris has made the lead up to school all that much easier for Paisley. He and his partner treat her as if she was their own, spoiling her with slumber parties, days out, swimming, and park visits. These seemingly small acts of kindness are what Paisley draws on when she starts to worry about school, as she knows that on the weekend she can always hang out with Uncle Chris and Aunty Shanon. I know he'll read this and get a little embarrassed. But, when you have a brother that cares just as much for your child as you do, you have to give credit where credit is due.
I know that my little girl is going to love school. She will embrace it and blossom into the superstar she was born to be.

Kids. They don't stay little forever, so hold onto them while they still think you're cool enough to be around.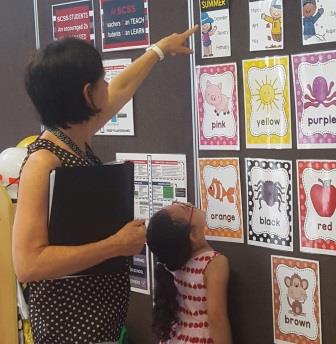 Caption: Vision Australia occupational therapist, Patricia shows Paisley matching pictures and words on the wall.