General Manager Commercial & National Services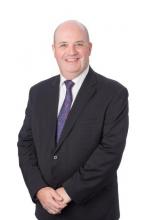 Following a career working with multinationals around the world David joined Vision Australia in 2006.
He developed a successful career firstly as a senior financial executive, through to roles in M&A before taking on operational leadership as vice president for a US firm overseeing businesses across 12 Asian countries.
Until recently David was Chief Financial Officer and Company Secretary at Vision Australia and has now moved into General Manager Commercial and National Services to lead Vision Australia's commercial response to the NDIS and other funding changes for services for people who are blind or have low vision.
David is originally from the UK and arrived in Australia in 2003. He is based in Melbourne and has five children.
David is a passionate Tottenham Hotspur supporter, barracks for St Kilda in the AFL and Melbourne Victory in the A league.